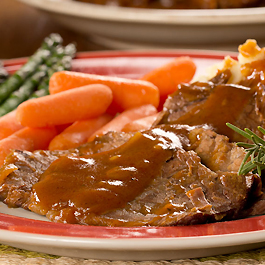 Courtesy of Mr. Food Test Kitchen
Servings: 8
Prep Time: n/a
Cook Time: 6 Hr. 10 Min.
* 1 (3- to 3-1/2-pound) chuck roast
* 2 tsp. salt
* 1/2 tsp. black pepper
* 1 Tbsp. vegetable oil
* 1 large onion, coarsely chopped
* 2 Tbsp. tomato paste
* 1/2 c. water, divided
* 2 Tbsp. Worcestershire sauce
* 2 tsp. chopped fresh rosemary
* 3 clove garlic, chopped
* 3 Tbsp. all-purpose flour
1. Sprinkle roast with salt and pepper on all sides. In a large skillet over high heat, heat oil; brown roast on all sides.
2. Place onions in a slow cooker; place roast over onions.
3. In a medium bowl, mix tomato paste, 1/4 cup water, Worcestershire sauce, rosemary, and garlic; pour over roast.
4. Cover and cook on HIGH 6 to 7 hours or on LOW 8 to 10 hours, or until meat is very tender. Remove meat to a platter; cover and keep warm.
5. In a small bowl, whisk remaining water into flour until smooth. Whisk flour mixture into onions and sauce in slow cooker until thickened. Serve onion gravy over roast.

Recipe and Image from the Mr. Food Test Kitchen
© 2018 Ginsburg Enterprises Incorporated. All rights reserved.